Where have all the travel vloggers gone?
(Written on the couch during lockdown in Bangkok in 2021)


By Raine Grady – Travel writer, video producer & vlogger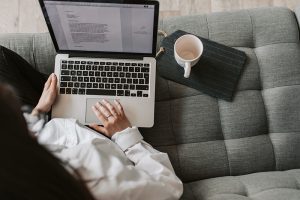 By now, as we sit and watch another Netflix epic or scroll through our Instagram pictures from the good old days of BC – as in 'Before Covid', most of us are well aware that the joys of travel have entered an endless holding pattern.
For the travel trade itself, the disaster has touched down with an almighty thud.
From holiday agents to tour guides, from airlines to resorts, from car rentals to souvenir sellers the industry is sinking with no rescue boat on the immediate horizon.
There are also many people, yours truly included, who thrived and survived on a buoyant travel industry through the strength of our pens or the focus of our lens.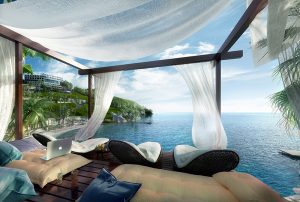 We storytellers who inhabit that enviable world of travel blogging, or in my case as a video creator, vlogging, are floundering around within the confines of our shrunken borders wondering 'where do we go from here'?
Is it end of days for us?
We, of the endless holiday, we of the never quite unpacked suitcase…
The answer to that is, well, it's complicated.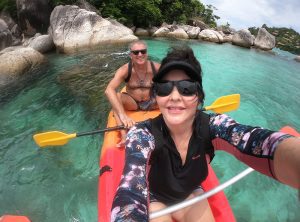 From my own perspective, thoughts of distant shores have shrunken to the closest escapes possible, and on other days, determinedly inwards.
Just over a year ago, (it feels like a century), myself and my team were venturing around Thailand and Asia filming dreamy resorts and exotic playgrounds for platforms like Luxury Escapes – one of Australia's biggest travel booking platforms.
On other days the job description included filming stories for our YouTube Channels Destination Thailand or Travel Asia & Beyond.
Sometimes we had to rough it and produce a video for a hotel construction project in somewhere like Bali or Mexico.
Yes, ok – bring out the violins.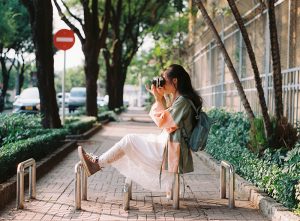 However, believe it or not, it's the bloggers and vloggers that the travel industry – at least in the good old days BC – reached out to when they wanted to promote a destination or a new property.  Good travel storytellers tempt their audience to watch, read and then, hopefully, pack their own bags and go there too.
Nothing shows you a better perspective of a place, an experience or a journey than the view from the front seat, though now I am a passenger on the same runaway train we are all trapped on.
Yet I firmly believe that any true blogger or vlogger can still find a story to tell.
To begin with, I am lucky enough to be living and working in Thailand, so wearing my travel writer's hat in my own backyard is not a hard pill to swallow.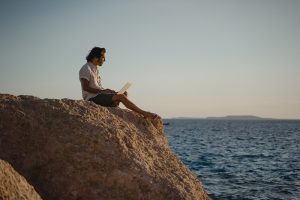 Depending on lockdowns, red zones and varying degrees of pandemic induced freedom I have still managed to visit and explore lovely islands, glorious beaches, national parks and cultural attractions – appropriately masked and distanced of course. 
While the destinations are bare of tourists, the scenes I have captured are defined by the dazzle of pristine nature, the freshness of uncluttered paradise and the sounds of silence.
For a storyteller these are rare moments to capture rather than to lament, for who knows when we will see such scenes again. It's certainly a first for me after more than two decades of exploring this land of smiles.
I have also stepped bravely in another direction. Inwards.
Besides videoing and editing my own stories I now search for other ways to be creative.
For me, that has meant picking up a paintbrush and capturing images of my life experience and imagination on canvas.
It was either this or baking.
That's how I am faring but how about other travel storytellers?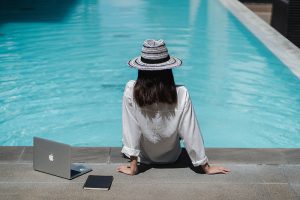 Debbie Oakes is a lifestyle and travel writer who lives between London England and Umbria Italy. While navigating the challenges that Covid has presented to those two countries, she says she has found inspirational people, exotic food and lifelong friends and, in equal measure, poverty, injustice and pain.
"The road gives and the road takes away, but it never stops teaching" she says.
Debbie's work has appeared in international publications including South China Morning Post, Culture Trip, Bangkok Post, Prestige Magazine and Lifestyle + Travel Magazine.
Thousands follow her adventures in Italy on Instagram @umbriatuscanygram or in London @debbieoakeslifeasart.
"As a grounded travel writer & blogger, I have devised a simple formula in order to survive," she says. "Pandemic buzz word + Darwinian theory = Pivot or Die.'"
To that end where once she blogged about delicious travels, now it might be leveraging those contacts and writing about where to buy the 'delicious' online without the travels.
"I am focusing on subjects that we are collectively concerned about thanks to the pandemic," she adds.
"Lifestyle changes, sustainability and ecology. Do I think that it is the end days for travel writing? Call me Polyanna, but No. However, I think it is time to develop new skills, to think about communicating things that are important to the community, the vulnerable and the environment".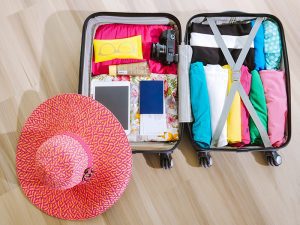 Debbie says it's also time to niche down and dive into the things we were perhaps too busy to notice before, like how exotic our own backyard can be if looked at in the right way in a certain light.
While my visual focus morphed onto canvas, Debbie's skill with words entered another realm. She took Covid time out to become a wedding celebrant.
"I am now weaving words of power to celebrate life, love food and everything in between', she says.
The other dilemma for travel storytellers is that we don't really exist without an audience. How do you know a tree has fallen in the forest if someone hasn't shared it on Instagram or YouTube?
And if we can't go anywhere how do we keep our literally captive readers and viewers engaged, even though, let's face it, they are constantly glued to their screens these days.
That's the question I posed not to a writer but a techie.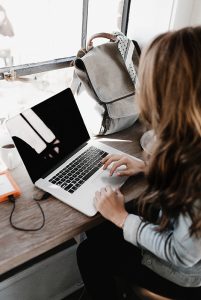 Maxwell Kimberley-Thompson is the brilliant 30-something founder of HashtagsforLikes.co, a subscriber-based web platform that helps story-tellers and influencers on Instagram, TikTok and YouTube to hold and grow their audiences through the mysterious power of hashtags.
For many influencers, this also ensures they continue to make an income from their online posts and businesses.
"A lot of travel bloggers are by nature good at adapting," Max tells me.
"The immediate future for them is to keep people inspired even if it's by reshaping stories in a different way to keep people engaged. People need to look at repurposing great content with a new angle and use the online tools available to promote their clients remotely."
Max says there is also a lot of demand for aspirational content.
"We have thousands of influencers and content creators on our platform looking to reach more people," he says.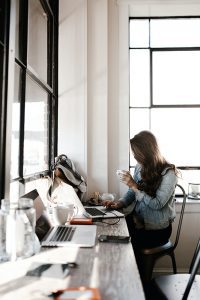 "The shift from global travel to localized hashtags is much more noticeable. Digital nomads are used to working online and can probably cope better than most. For the globetrotting travel-bloggers it's a time to reassess their storytelling, reflect and support their home communities. We have also seen a lot of people turning to educational programs online and improve their skills while they have more time on their hands".
Now is certainly a good time to upskill and help others learn in a peer to peer environment.
Also a shareholder in the 70,000 plus member Bangkok Expats Facebook group, Max says there are many local hotels and resorts for instance who still seek support from bloggers and vloggers.
"There are some hotels and resorts we are working with in the Bangkok Expat community who are taking bookings well in advance and offering great deals," he says. "These companies still welcome support from local vloggers and bloggers who already have a captive audience and are desperate to travel within the country".
Well-known hotelier Bruno Huber certainly hasn't let Covid slow him down.
General Manager of the Mövenpick BDMS Wellness Resort Bangkok, it's fair to say he was directly responsible for the implementation of the Alternative State Quarantine (ASQ) system in Thailand.
"We were the ones who invented this thing in Thailand", he says.
"We went to the government and asked if they were interested in a private hotel quarantine for people who come back from overseas, so they don't have to stay in the state accommodations. They considered it and after three weeks they came back and said yes".
That was in March 2020 and the hotel had its first ASQ guest soon after on April 25.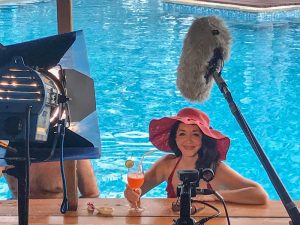 The system doesn't cost the Thai taxpayer any money and people, especially foreigners, wanting to return to Thailand this way can pay for it out of their own pocket and stay in considerably more comfort for the required two weeks.
While most Thailand resorts and hotels are suffering from the massive fall in tourism, Bruno's city resort has been lucky.
"I can operate 250 out of 293 rooms and sometimes for six weeks I'm totally sold out", he says.
In fact, the hotel has rarely dipped below peak occupancy.
Part of the reason is that Bruno has maintained a fixed and fair room price. The real advantage is that every room has a balcony and the hotel has a huge garden that 'guests' are allowed to walk through each day. Only one other Bangkok hotel in the ASQ program can offer the same feature.
It's in many ways thanks to media coverage and blogger reviews that Bruno has been able to maintain the hotel's desirability during lockdown.
"We have lot of media coverage, so we've been seen on TV, in newspapers and online because we were also the first hotel from the Accor group to operate an ASQ."
"We have had a few influential bloggers who have stayed with us and made some fantastic stories about the hotel by reviewing their experiences," he adds.
"Bloggers have been quite interested in what we are doing and this is helped us a lot in terms of the ASQ program".
The hotel has also re-engaged with local bloggers, inviting them to events and promotions that are held in the hotel café – which is still operating normally for the public.
The biggest question Bruno is asked repeatedly is when will travel return to normal and will the hotel industry in Thailand, and elsewhere in Asia, fully recover.
"I am 1000% convinced that once this whole thing is over and people can travel freely again then the immediate reaction will be let's go, let's get out", he says.
"Look at the Maldives right now. The Maldives are open and they don't know where to put people any more as everyone wants to go there. There will be a huge response of people wanting to get up, go out and travel. You will see the second the destinations open, there will be a huge demand and Thailand will be as popular as ever".
With a career that has spanned decades and taken him across the region, when it comes to hotels, Bruno Huber is a man in the know.  According to his network, the general discussion in the travel trade is that hotels and tourism will not see a full recovery before 2024, and that's just to get back to 2018 or 2019 levels
"I do believe it will come back," he tells me with his trademark optimism.
"Look at what happened during the last pandemic. The Spanish flu in 1918, followed by a global downturn and then came the roaring 20s.  The whole world went out to party. Some people think the world will be a healthier place, a cleaner place and that people will be more focused on their wellness and the environment but let's face it, people have been locked away for almost two years and they will want to get out".
Every hotel needs to decide what sort of business they are going to have AC (After Covid) and Movenpick BDMS Wellness Resort Bangkok will continue with its wellness drive.
"We will combine medical diagnostic, illness prevention and holistic care with sophisticated equipment that checks everything right down to your DNA," he tells me.
"Then you can do a seven day stay in the hotel. That's going to be our model after Covid. Then we'll be ready to welcome our favorite travel bloggers back here".
Even through his industry is hurting, this GM believes Thailand did the right thing in enforcing a national border closer.
"Thailand has handled it very well up until now', he says. "The lockdown and its ongoing management have controlled the spread of the virus very well and life here has generally continued quite well but I am of the opinion that the countries that will fare best beyond Covid will be those that quickly adopt and implement a vaccination program."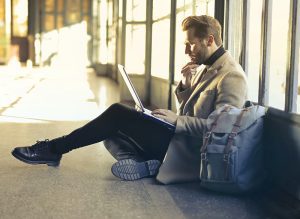 While many of us, for once, now actually look forward to having an injection, some hotel and resort industry leaders are maintaining holding patterns of their own.
Bernhard Bohnenberger or BB for short, had the ultimate dream job and was lucky enough to take a break before the pandemic wave battered the shores of his world.
The former President and Founder of Six Senses, he was the smiling face at the helm of the globally acclaimed Six Senses Hotels Resorts & Spas. Gorgeous places in Thailand, the Maldives and Vietnam to name a few – some of which I was lucky enough to video in splendor.
He joined the company that would eventually become Six Senses in 1991 as Development Director and was appointed Managing Director in January 1996.
BB was appointed President in July 2011 and left the company in July 2019 after the successful sale of Six Senses to Intercontinental Hotels Group for US$ 300 million.
How is that for awesome timing?
These days, he might be relaxing on his own balcony, but you can bet the resort business is always on his mind.
Does he think its end of days for the travel blogger?
"No," he says. "The established travel media will continue to hold a hugely important role with the consumer in making them aware of the wide array of opportunities worldwide.  The hotel industry will continue to strive to push the boundaries of expectation and will want to engage with the travel media to ensure coverage of their exploits".
But he acknowledges the travel narrative has evolved.
"As the vaccinations roles out around the world the narrative will return to the norm.
It is also interesting to see that more emphasis is being placed on environmental and sustainable product, something that I think the circumstances of the past year have made even more prevalent in the mind of the ultra-high-net-worth-individual".
And while we hover we can dream and we can also make plans?
"Absolutely, my belief is that as soon as it is possible the first thing that everyone will look to be doing is to book a holiday.  Everyone is in the process of deciding where that holiday will be and the dream of arrival. I believe that the high-end leisure travel industry will be amongst the first to recover."
BB has always been at the forefront of major changes and emerging consumer expectations in the travel industry.
It's not hard to assume we'll see something innovative and interesting when he emerges from his current sabbatical.
So, for now, we wait, we create, we pivot, we paint.
The nearby park, the downtown gallery, the closest beach all beckon us.
Good storytellers don't really have to look too far to find that blog or that vlog that will inspire and remind our followers that we are still somewhere out there and still have something to share.
As it happens, my suitcase is already packed.